The Decembrists - Live at KCRW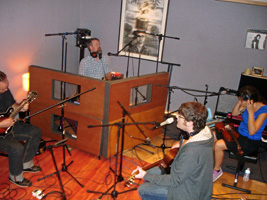 Colin Meloy leads the Decemberists, a five-piece outfit whose pop sound has listeners comparing the band with the likes of Neutral Milk Hotel and Belle & Sebastian. Meloy, who hails from Missoula, MT, is the main songwriter for the group. Rounding out the lineup are Ezra Holbrook on drums, Nate Query on upright bass, Jenny Conlee on accordion, and Chris Funk on theremin and pedal steel guitar. Frontman Meloy previously devoted some time to an alternative country group before breaking off to pursue his craft as a singer/songwriter in the city of Portland, a period that eventually led to the Decemberists' formation. He also holds a degree in creative writing. In addition to her duties on the accordion, Conlee also plays piano. Funk is the band's newest member. Before Hush Records released the Decemberists' first album in 2002, the group put out an EP of five tracks. Their full-length debut, Castaways and Cutouts was re-released that same year on the Kill Rock Stars label, and the band began to accumulate a serious fan base. 2003 saw the release of Her Majesty, another fine collection of theatrical indie pop with british folk sensibilities that further cemented their growing reputation as a band to watch. The following year they released the five-part epic EP The Tain, based on the 8th century Irish poem of the same name, followed by their third full-length Picaresque in 2005.
The presented is a live set from KCRW's Morning Becomes Ecletic show that took place in April 21, 2005.
01 - Intro
02 - The Infanta
03 - I'm Yours
04 - Here I Dreamt I Was An Architect

05 - Interview
06 - We Both Go Down Together
07 - The Engine Driver
08 - Eli, The Barrow Boy
09 - The Mariner's Revenge Song
10 - Station outro
SOURCE

FM

SOUND QUALITY

A

FORMAT

Mp3

BITRATE

192

TRACKS #

10

LOCATION / VENUE



Santa Monica
KCRW studio

DATE

April 21, 2005
NOTES:
Labels: Decemberists;the, Morning Becomes Ecletic
| | | | |
| --- | --- | --- | --- |
| | | | |
For unlimited download and no waiting time: Buy Premium account