Folk Day at the Proms - Royal Albert Hall 2008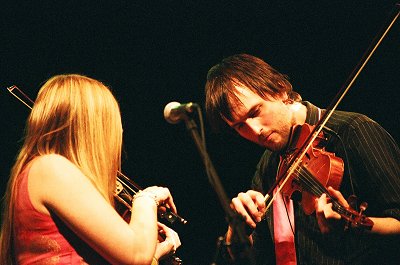 Here's a lingering irony. We live on an island seemingly open to all sorts of musical genres – yet none of them polarise us quite like the music that tells our own history. At the one extreme are the British folk fans who seek it out at clubs that specialise in it. Then, on the other end of the seesaw, struggling to all fit on, there are the rest of us. Forced to attend, say, the Fylde Acoustic Circle in Lytham St Annes or the Coal Clough in Burnley, we may feel about as comfortable as the two backpackers in An American Werewolf in London as they crossed the threshold of the Slaughtered Lamb. And, for all we know, a similar fate may befall us.
Thankfully, we don't have to take that chance. If we turn up to this weekend's inaugural Folk Proms at the far less scary Albert Hall, we may even find ourselves pleasantly surprised by what lies in wait. And, as Roger Wright, controller of Radio 3 and director of the BBC Proms, explains, there really is no reason not to. One of the first things Wright did when he took over the Proms last October was to ensure that the Folk Day would be the first free Proms event.
An attempt to refute the notion that you can't even give this stuff away these days? That may be true, he says, had vibrant new artists such as Rachel Unthank, Seth Lakeman, Bella Hardy, Lisa Knapp and, of course, Eliza Carthy not helped British traditional music to blossom beyond all recognition in recent years. "I don't think that anyone who attends these events won't pursue their relationship with some of what they've heard," he says. Looking at the bill, he has a point. Pieces by Percy Grainger and Vaughan Williams, based on English folk music, start the main event in the afternoon, before the Northumbrian smallpipe virtuoso Kathryn Tickell premieres her new work, Confluence, "about an imaginary junction where the River Rede meets the Thames and the Danube". Also on hand is the singer-fiddler Hardy, who has rightly harvested superlatives for her solo debut Night Visiting.

But it's in the evening that the words to Richard Thompson's Roll Over Vaughan Williams will assume a seismic resonance. Bellowhead will be making it their business to rattle the Victorian dome like a pressure cooker lid. As the band's co-founder, Jon Spiers has good reason to smile when he recalls the time his band were thrust into the bearpit of Later with Jools Holland. Easing his 11-headed "folk beast" from his melodeon intro into the rest of a trad obscurity called Jordan, the struggle to concentrate was made all the more surreal by the quizzical gaze of the Red Hot Chili Peppers across the studio floor.
"Even as we were playing the song, you sensed that serious musical computations were taking place," Spiers says. Eventually, the bassist Flea ambled over. "He said that he too played the trumpet – it was just that he had never heard one that made that sound before." To the super-toned authors of Californication, the low parp of the tuba on an ancient, faintly apocalyptic minstrel song must have been some education. "They loved it," Spiers adds. "Without wanting to seem arrogant, people who turn up without having heard us find themselves won over, even if they don't know what it is they've been hearing."
Either that, or they don't want to put a name to what they've just been enjoying. Being "into folk" tends only to be something you boast about when talking about acoustic guitar-wielding Americans such as Fleet Foxes, Bon Iver or the acoustic indie troubadours who play at festivals such as Green Man. British players who hone their craft through folk clubs can find themselves marginalised as a consequence, preaching to the converted.
Playing on the same bill as Bellowhead at Sunday's concert, the 55-year-old folk guitar legend Martin Simpson says he has had lots of time to analyse the dysfunctional relationship peculiar to the English and their indigenous music.
The Scots and the Irish are perfectly comfortable with their own traditions, he says, "but there remains a whiff of postimperial guilt about our attitude to our music. People think they know what English folk songs amount to – but the cliché of chunky-knit sweaters and fingers in the ear bears little relation to the songs that form the body of English music.
"This music wasn't meant to be preserved in aspic. It's a living, evolving thing. But it will cease to be if people stop engaging with it."
But given the "postimperial guilt" of the English, isn't the Albert Hall a somewhat strange venue to host a folk prom? And besides, at the end of the evening when it's time to dust down a folk equivalent of Land of Hope and Glory, to which song should we turn? Reynardine? The Sweet Primroses? All Around My Hat? Spiers has other ideas. "It has to be John Barleycorn.If paganism and beer can't unite a British crowd under a common aim, then what hope is there?"
SOURCE

DAB

SOUND QUALITY

A+ 

FORMAT

Mp3 

BITRATE

256 

TRACKS #

15 

LOCATION / VENUE

London 
Royal Albert Hall 

DATE

07–08
NOTES:

Download here
Labels: Bella Hardy, Bellowhead, Martin Simpson
| | | | |
| --- | --- | --- | --- |
| | | | |
For unlimited download and no waiting time: Buy Premium account