Murcof - Minimalist Laptop Fundamentalist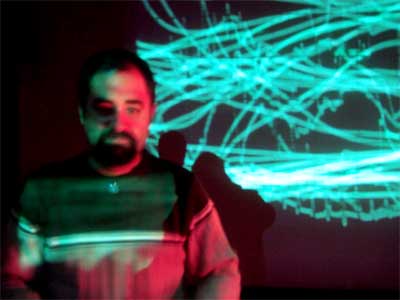 Murcof is the performing and recording name of Mexican electronica artist Fernando Corona.
Corona was born in 1970 in Tijuana, Mexico and was raised in the nearby port of Ensenada. In 2000 he returned to Tijuana where he has continued to live and work. He was for a time a member of the Tijuana-based Nortec Collective of electronic musicians under the Terrestre project name.
Murcof's music is sparse, minimalist, sample-based electronica. Although founded on complex, at times, abstract, glitchy electronic percussion, Corona's recordings are more melodic and traditionally structured than many contemporary electronic musicians. Many recordings feature orchestral strings sampled from recordings of works by modern composers such as Arvo P?rt. He has a unique way of using silence, it fills his music with intense emotion. There is an obvious influence from film music on his work that can be heard in his use of samples and his dramatic production.
Labels: Erik Truffaz, Murcof, Talvin Singh
| | | | |
| --- | --- | --- | --- |
| | | | |
For unlimited download and no waiting time: Buy Premium account