Cannonball Adderley Sextet - All About Jazz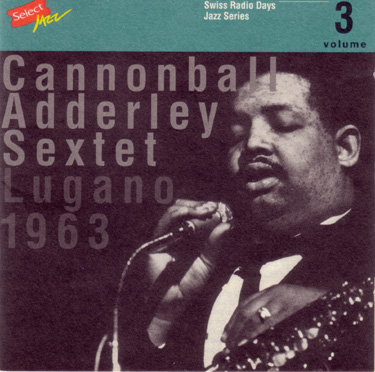 Take some well-rounded-body and soul-jazz personalities like Fats Wailer, Jimmy Rushing, Ella Fitzgerald and Oscar Peterson. Extremely well-rounded too, when it comes to generating full-bodied excitement with very demanding and exacting musical means. Would you include Julian 'Cannonball' Adderley in that particular jazz category? I, of course, would. Come to think of it, it should be a category included in all jazz polls.
Looking for hidden treasures? The Swiss banks vaults conceal some mighty ones, but, alas, they are unavailable for most of us. Whereas hidden treasures in Swiss radio vaults are becoming available. Like this groovy tape found at the Italian speaking Swiss radio in Lugano: Cannonball's sextet from the early sixties (1963). A funky and churchy and soulful tape, too. Dig six very swinging cats cookin' it up and around and about. Let's forget all the jazz jive from way back and concentrate on the music. Live jazz on record is the best substitute for live music.
The tunes: "Trouble In Mind" is a classic from the 20's, the others have become classics by 1995. Three very classy bop themes, like Oscar Pettiford's "Bohemia After Dark", Quincy Jones' "Jessica's Day" or Ernie Wilkins' "Dizzy's Business" (remember Dizzy Gillespie's big band versions of these two from the middle fifties? "Jessica" is taken here at a much faster tempo), all up tempo numbers meant to enliven any proceedings. Two compositions taken at less crazy tempos: a hard bop one, Sam Jones' "Unit 7" and Richard M. Jones' poignant old blues theme "Trouble In Mind" a show case for Yusef Lateef's oboe and the rhythm section. Oboes, by the way, are still (1995) not much heard in jazz circles, yet Lateef demonstrates here beyond doubt (1963) not only they should be warmly welcomed, but that they wail I Rhythm sections like Joe Zawinul on piano (plain old piano, no electronics), Sam Jones on bass and Louis Hayes on drums, are also hard to find, anytime. But there's still more pleasure to be had from this concert: two Nat Adderley down-home tunes, "Work Song" and "Jive Samba" (the bass line in this one shows a trait common to Brazilian and Afro-North-American music - the basic baijo figure which sounds almost exactly like a widely used rhythmic figure in blues and rhythm & blues). Both compositions have become classics too: Nat Adderley is may be not as consistent a composer as Horace Silver but you can bet Mr. Silver would willingly sign those two. Funky, bluesy, churchy, swinging, wailing, driving music...
Julian Adderley and the music in this record somehow embody all those virtues - and a lot more. From today's point of view, you feel like comparing Cannonball to Wynton Marsalis. No, no polemics. You can instantly tell what separates them: as far as I know, Cannonball only preached through his horn. But there are several common features. Cannonball carries in his approach the entire jazz tradition as much as Marsalis does-or pretends to, if you don't 'believe' in Marsalis. It has been said that Cannonball, his great originality notwithstanding, could at times sound like any number of saxophone players from every jazz era. At the same time, he proved he could play any kind of music: advanced music with Miles Davis, John Coltrane and Bill Evans, Latin jazz with the best Latin musicians, bossa nova with the cream of the Brazilians; and Third Stream Music, too. Besides, he came into prominence during the hard bop days from the late 50's and 60's, when jazz was going through yet another revival period, one that is not regarded as such because it generated a lot of powerful music.
Much of it sounded newer than it actually was: marrying simplified bebop and folk and pop black tradition was a strong mixture, almost as strong as the one that, in its day, resulted in what we call jazz. But not quite; it did not turn out able to do what it was aiming for: reconcile the masses - and particularly the black public - with jazz. To this day, jazz is still trying to recover from the loss of its mass audience back in the late forties. The Adderley brothers' success during the sixties is in itself a remarkable achievement and a reminder that you can attain popularity within the jazz ambit (whatever that may mean).

The happenings in this Lugano concert are outstanding: Cannonball's alto sax, itself an invitation to jazz wonderland and Nat Adderley's cornet, with its persistent warmth and ebullience. Yusef Lateef's tenorsax, flute and oboe: he's one of those musicians who have captured the sound of jazz, a considerable achievement - furthermore, no matter how you look at Lateef's work, you have the feeling that he has never been awarded the recognition he deserves. Joe Zawinul's piano of the time sounds like a cross section of many bop and hard bop pianists and, at one and the same time, he's so convincing, solid and always willing that you can't escape the feeling there must be a lot of Zawinuls that never got a chance to develop! Sam Jones' bass swings so hard you could certainly listen to him just keep time and be happy. Last but not least, Louis Hayes' drumming is meant to keep everybody busy at giving the best of themselves. This is a recording you'll enjoy time and again. Both because it's live and so very much alive.
01 - Jessica's Birthday 8:19 Quincy Jones02 - Jive Samba 10:3 Nat Adderley 03 - Bohemia After Dark 7:35 Oscar Pettitord 04 - Dizzy's Business 7:04 Ernie Wilkins 05 - Trouble in Mind 12:43 Richard Jones 06 - Work Song 7:57 Nat Adderley 07 - Unit Seven 5:23 Sam Jones
JULIAN CANNONBALL ADDERLEY alto saxNAT ADDERLEY cornetYUSEF LATEEF tenor sax & flute & oboeJOE ZAWINUL pianoSAM JONES bassLOUIS HAYES drums

Labels: Cannonball Adderley, JAZZ, Joe Zawinul
| | | | |
| --- | --- | --- | --- |
| | | | |
For unlimited download and no waiting time: Buy Premium account